Sustainable Finance Week in brief
Prudential ESG risks & capital requirements
Overall the climate goals of 2030 and 2050 are ambitious. There are sufficient funds available, yet there is an allocation issue which policy makers try to resolve. The EU Sustainable Finance Action Plan was a first effort. The risk function at financial institutions is also impacted by this. All financial institutions have been working hard on providing insight on how they plan to implement climate and environmental risks in their risk policies. Marco Frikkee (KPMG) points out that, following from the benchmark of KPMG, a lot of awareness has been created that are accompanied with challenges. Various types of these risk are complex and interconnected and are different in nature. How are we going to integrate it in the risk policies? That is the most crucial question to answer.

As became clear in the poll, most people believe there is a role for prudential regulations in achieving EU Green Deal objectives.
Jochem Wissenburg of the Ministry of Finance points out that prudential regulations are part of a broader policy mix of the Dutch Climate Agreement, the Climate Commitment of the financial sector and the broader transparency policies. There are some challenges, since there is still not a clear definition on what 'sustainable' is. This is a collaborative process in which different views of 27 EU Member States must come to an agreement. Aside from regulations, it is common sense that we need to more towards greener activities.

Rens van Tilburg, Director Sustainable Finance Law, points out the importance of mindset in this transition. We spend too much time about time and models and not enough about the mindset. We need to accept that climate risks simply do not fit within existing models and that another approach is necessary. Assumptions need to be made for the future and we must act upon them. The financial sector should take a step forward and make a point to supervisors and policy makers. 
Ebbe Negenman, Chief Risk Officer of Knab explains how they started with a strategic vision and broadened the scope to not only risk management, but to use it as well as a possibility to have true impact. It is not easy to outline certain risks, because there are factors, such as demography, that will influence the economy. It is an indirect risk not to live up to societies expectations, because it will be followed by hard law. It is a journey and we must explore. It is a problem of today and you cannot use  the solutions of yesterday.

Head of Climate Risk at Rabobank, Marieke Bonekamp, shared how prudential regulation helped both internally within Rabobank and in the sector, because it underlines the need to work in partnerships. We must combine knowledge with governments, scientists, etc., because quick action is needed. The longer we wait, the higher the demands of the transition. Prudential frameworks must be balanced. It is important that there are methodologies in place and data to create action. This is seen as a challenge, because this is not available when it concerns certain climate-related risks. Marieke mentions that Rabobank uses proxies on portfolio level in an effort to overcome this obstacle.
Robin Willing, Senior Sustainability Advisor at NIBC Bank emphasized the value of revisiting existing sustainability frameworks and ESG due diligence processes. Make an internal inventory and explore how to transform it into qualitative and quantitative data, is his advice. Sometimes the perceptions of hurdles become hurdles themselves, nevertheless we need to overcome them.

Maryse Hazelzet, sustainability advisor at NVB, closes off the week. A few take always she highlighted:
First, the sustainable finance action plan is highly welcomed and will create a large change in the organisations. As Wiebe Draijer of Rabobank stated it is a tectonic movement. It should be included in all pillars of the organisation.
Second, it should not only be a reporting tool but it also creates opportunities to engage with clients to discuss transition paths. Also the end user should be considered in how the reports will be communicated in a clear way.
Third, there are still many challenges, like the data challenge, fragmentation with national guidances and a lack of a global reporting standard.
At last, all these unknowns and challenges do not mean that we should await further guidance and have a pragmatic approach. We should start and work as much as possible together with the industry, legislators and supervisors. The latter two are looking forward to understand the practical challenges the industry faces in the implementation. In this way we can work together to further the legislative initiatives to make an actual change.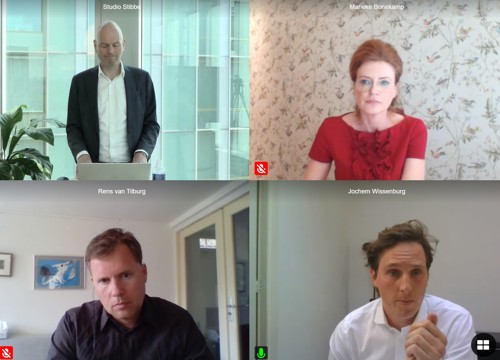 02/06: SFDR from a policy making and regulatory compliance perspective
The European Sustainable Finance Action Plan (2018) provides legal frameworks that should make clear what is 'sustainable', so that investments go in the right (sustainable) direction. An important regulation is the SF Disclosure Regulation (SFDR); reporting requirements specifically for investment providers. SFDR provides benefits to consumers. But the rapid implementation of these complex rules is no sinecure, so experience institutions that must comply. How do (European) policymakers and the regulator AFM view this?

Banks welcome the SFDR and have already done an enormous amount of work. Sustainability has become an intrinsic value in the sector, opened NVB chairman Chris Buijink the meeting. Of course we are in favor of the transparency and comparability envisaged by the SFDR. But we have concerns about the resilience and sequence of the legislative processes : is SFDR really going to provide clarity for consumers?"

Is SFDR actually suitable for sustainability reporting of different types of very diverse investment products? Or is it a one-size-fits-no-one? Paul Tang, PvdA member of the European Parliament and involved as a specialist in the SFDR indicates that it is indeed a broad framework. But you have to start somewhere; a rigorous developed framework takes years and years. The SFDR should be seen more as a tool. He agrees that institutions will not always have data for reporting on some products – but than so be it. This transition is a joint journey, Tang indicates. The message to the regulator is to take the time to make solid RTS: it's up to them to draw up requirements that are useful and understandable for every type of investment.

Victor van Hoorn, executive director of the European Sustainable Investment Forum (Eurosif) is an outspoken critic of SFDR. Unfinished or 'half-baked', is how van Hoorn characterized the SFDR. "There are new terms in the dictionary, but the definitions are still lacking. We have to watch out for fragmentation, because of possible national differences in the elaboration of the SFDR." According to Van Hoorn, national supervisors, perhaps rightly so, will fill the gap left by the legislator.  Implementation is also work in progress, according to van Hoorn. A process of learning together - in a European context - and gaining experience in, for example, SFDR product classification. Ultimately it is the internal experts who must be able to say honestly: this is what my product does when it comes to ESG goals.

The SFDR is important - because our clients want to invest sustainably - but the SFDR templates are too long and quite complicated for clients, after all clients are not sustainability experts, Karin Bouwmeester (ABN AMRO) indicated in the ensuing panel, which also included Narina Mnatsakanian (Kempen) and Guy Puylaert of the Netherlands Authority for the Financial Markets (AFM). The supervisor points out the importance of consumer tests: how to make the templates more customer-friendly and how to apply behavioral insights? The further elaboration of the guidelines from the EC is also important. In the wrap-up Robert Jan Prins of the NVB emphasized again that cooperation, with regulators and legislators, of which this session was an example, will eventually lead to more understanding.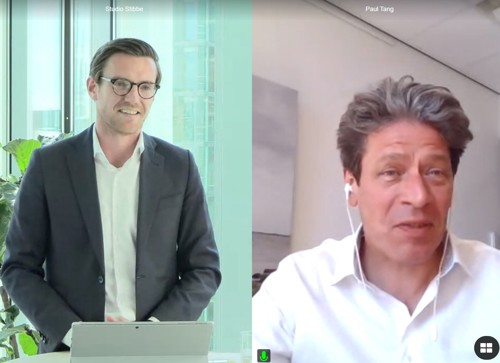 01/06: EU Taxonomy Regulation and sustainability reporting
Nederlands

The EU Taxonomy Regulation and sustainability reporting in general will impact financial institutions and its stakeholders. Many entities still need some guidance and gain some experience. What are the legal boundaries? And what does it mean in practice? The EU taxonomy is an important tool that lists economic activities with environmental performance criteria. It is not an industry policy, and it does not concern behavioral compliance. It is a disclosure requirement that functions as a benchmark. This is necessary in a world where governments set explicit environmental goals and financial institutions need to make decisions on how to contribute. It is in fact a tool for the transition.

In regard to expectations, Nathan Fabian (Chief Responsible Investment Officer / Chairperson at PRI /  European Platform on Sustainable Finance) stated that the EU Taxonomy does not cover the whole economy. Criteria are provided for sectors that have a particular footprint. The taxonomy will cause a re-assessment of risks in which service providers will play a significant role. The taxonomy will have a positive effect on companies that genuinely understand the transition, because capital will be looking for a green home. It will be a next generation of responsible investment. 

Dietske Simons (Director Finance Impact and Data FMO) and Hans Biemans (Head Sustainable Markets ING) welcome the EU Taxonomy. It is stated that it is as well a real drive for change and it is a challenge to apply outside the context of Europe. There is also a difference between financial institutions on how to deal with it. Therefore, there is the need for an harmonized approach. A large part of the EU Sustainable Finance Action Plan is about transparency and reporting. Transparency is the beginning towards change and in order to actually enforce change, it must be embedded in all the pillars of an organisation.

There have been mayor developments in die field of sustainability reporting. Subsequently this has led to fragmentation and therefore there is an urgent need for streamlining the initiatives and we must strive to harmonisation. 

Reporting specialists Mark Vaessen (Partner KPMG) and Steven Hijink (Council Stibbe) discuss the amount of reporting obligations and the necessity of a harmonized approach. It is important to create a system that works both effectively and efficiently. Traditionally reporting standards start more general and become more specific. It seems that for sustainability standards it is the other way around, because it concerns industry specific issues. It is stated that such momentum around an international reporting initiative in this short time has never been seen, which demonstrates the seriousness of it.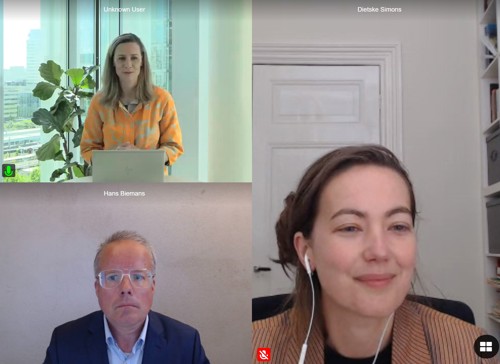 31/05: introduction SFW with 'ESG in de boardroom'
Rogier Raas en Suzanne Kröner open the session: "The EU Sustainable Finance Action Plan impacts financial institutions in relation to ESG. It requires more than implementing a set of rules. We need all actors involved to makes this change." Connecting with each other helps, but there are challenges and many uncertainties. In what way should rules be interpreted and what is proportional? How will rules affect entities that already have set up voluntary agreements? And do governance rules need to be adjusted in order to meet the goals of the EU Action plan? Most of the audience believed a shift in governance rules is necessary in order to change boardroom dynamics.

ESG is developing rapidly and is entangled in the entire organisation of entities. The CEO of Rabobank, Wiebe Draijer, sees how the past years there has been a gradual build-up of pressure in the boardroom. The shift to mandatory rules is both frightening and necessary. It should however not undermine the original purpose. It is important to attune internally and seek for collaboration. Because ESG goes beyond competition, it is important to work together to make the transition a success, wherever that is possible.

Supervisory Board member Jacqueline Tammenoms-Bakker stated that no single regulation will replace management responsibility. Getting more sustainable is a joint challenge, so we must jointly learn how to tackle these issues. Common language and reporting standards are needed to achieve this shared task. A suitable CEO, who shows commitment and is curious about new ESG developments, can make a difference. The core responsibility of the Board is to anticipate and have an 'antenna' out there in order not to miss the most important developments.

Both Jacqueline Tammenoms-Bakker and Wiebe Draijer argued that regulations are needed, but on the other hand are quite overwhelming. In addition, Christiaan Rebergen of the Ministry of Finance points out that the Dutch situation, which is based on our poldermodel, is unique compared to other EU countries.