Banks' support to businesses in times of corona increases to 40 billion euros
Dutch banks continue to support businesses during the corona crisis. Since the Corona crisis, Dutch banks have offered additional credits to almost 49,000 businesses, with a combined value of 39.9 billion euros. This is displayed in the second Corona Monitor of this year, published by the Dutch Banking Association (NVB).
Chris Buijink, President of the NVB: "The amount of loan provisioning by banks remains stable, but we are aware of the less positive outlook in sectors which are affected by the lock down. Many businesses can stay afloat due to the support they receive from the Dutch government, but meanwhile, businesses are accumulating more debt. Many businesses are therefore going through a difficult time."

The Corona Monitor is based on complex data collected from a large number of banks. Due to a double counting, the amount of financing in the Corona Monitor of January resulted in a lower number (34.6 billion euros). This month's Corona Monitor includes real estate loans; those were previously incorrectly excluded from the monitor, resulting in the total amount of 39.9 billion euros.

In addition, the amount of guaranteed loans is higher because not all banks included regular guarantee loans (in particular the BMKB) in addition to the specific corona loans (such as KCC, BKMB-C and GO-C). 2.8 billion euros (out of a total 39.9 billion euros) concerns loans with a government guarantee and involve over 8,000 businesses.

In 2020, 129,000 companies received a postponement of loan repayments from their bank, totalling 3.1 billion euros. This concerns the general payment break which was initiated by banks shortly after the start of the corona crisis early last year. In total, 43 billion euros has been made available for 178,000 entrepreneurs through the postponement of repayments and the provision of additional credit to companies.

Since the start of the corona crisis, almost 26,000 consumers received a pause for their mortgage payment and 12,000 for a personal loan. In most cases this concerns a payment break of one to three months. Some of those consumers have received an extension of the payment break.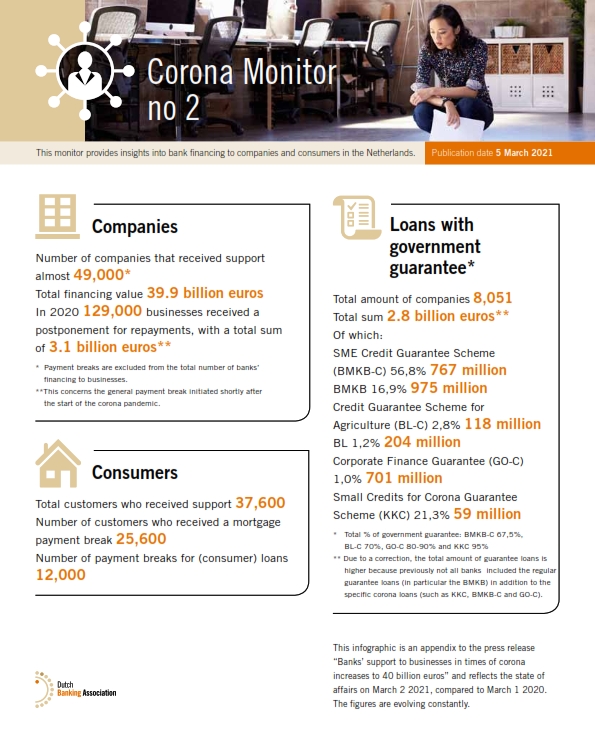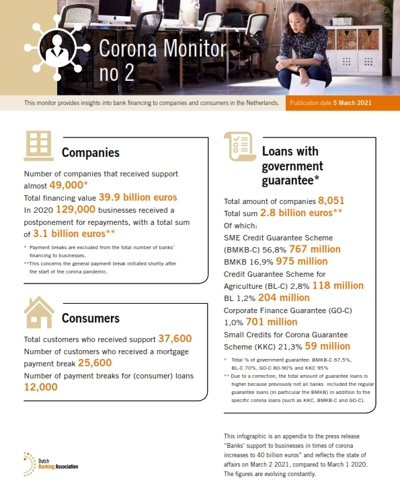 (please click to enlarge; pdf)


For previous Corona Monitors please visit this page