Banks' support to businesses in the context of COVID-19 increases to over 50 billion euros
Dutch banks continue to support businesses in the context of the Corona crisis. Since the Corona crisis, Dutch banks have offered additional credits to almost 56,000 businesses, with a combined value of 51.1 billion euros. The amount has increased with 6.8 billion euros compared to last month. This is displayed in the fourth Corona Monitor of this year, published by the Dutch Banking Association (NVB).
Nederlands

From the total amount of 51.1 billion euros, 3.3 billion euros have been provided with a guarantee by the government, such as the Corona SME credit guarantee scheme (BMKB-C), the finance guarantee (GO-C), the Credit Guarantee Scheme for Agriculture and the Small Credits for Corona guarantee scheme (KKC). Over 8100 companies have received a loan with a government guarantee.    

Chris Buijink, President of the NVB: "Credit growth continues to increase strongly despite the corona crisis. The numbers show that, despite the crisis that significantly affects some sectors, large parts of the economy continue to perform well. However, the dichotomy is deepening. We see a strong growth in larger loans, from one million euros or more. The picture is less rosy in sectors affected by the corona restrictions, such as for hotels, catering, the retail- and events sector and travel agencies. In part, this is shown by a slow growth of loans with a government guarantee. Entrepreneurs in affected sectors seem to be applying for lower credits given their uncertain prospects. For them it is of pivotal importance that soon a decision is taken on the continuation of governmental support."

129,000 companies received a postponement of loan repayments from their bank, totalling 3.1 billion euros. This concerns the general payment break which was initiated by banks shortly after the start of the corona crisis early last year. In total, 54.2 billion euros has been made available for 185,000 entrepreneurs through the postponement of repayments and the provision of additional credit to companies. A loan repayment break can still be provided on a case-by-case basis.

Since the start of the corona crisis, almost 26,000 consumers received a pause for their mortgage payment and 12,000 for a personal loan. In most cases this concerns a payment break of one to three months. Some of those consumers have received an extension of the payment break. In total, a combined value of 88 million euro has been made available for consumers.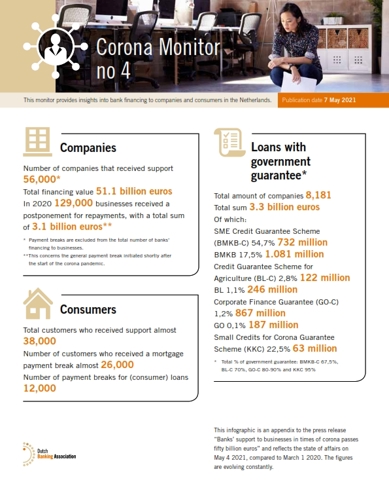 (please click to enlarge; pdf)


For previous Corona Monitors please visit this page