Banks' support to businesses in the context of COVID-19 increases to 60,5 billion euros
In the last month, bank credit provided to businesses has increased from 56,7 billion to 60,5 billion euros. Since the Corona crisis, Dutch banks have offered additional credits to more than 66,000 businesses. This is displayed in the seventh Corona Monitor of this year, published by the Dutch Banking Association (NVB).
Nederlands

From the 60,5 billion euros, 3.6 billion euros have been provided with a guarantee by the government, such as the SME Credit Guarantee Scheme (BMKB-C), the Corporate Finance Guarantee (GO-C), the Credit Guarantee Scheme for Agriculture (BL-C) and the Small Credits for Corona guarantee scheme (KKC). Around 8500 companies have received a loan with a government guarantee.  

The economic projections remain uncertain, given the development of the virus. The economy is recovering at a steady pace. Adverse scenarios by several economic experts have as of yet not materialised. Confidence by entrepreneurs has increased and there is more aptitude to invest. A light increase in credit applications in July also points in this direction. Banks continue to be constructively vigilant regarding corporate clients' ability to repay. Companies would not benefits from a loan that turns out to be too high. This requires an individual approach, as the COVID-19 crisis has affected clients in various ways and also the recovery perspective differs across sectors.  

Banks stand ready to support their clients, either small or large. The Corona monitor shows again that the majority (60%) of regular financing concerns credits below 250.000 EUR. Total outstanding SME credit is 123,7 billion EUR for 484.000 corporate clients. Over the past years, we see an annual increase in new credits provided by banks to smaller SMEs. Banks call on small companies not to hesitate to discuss financing needs with their bank.
Payment break
Last year, 129,000 companies received a postponement of loan repayments from their bank, totalling 3.1 billion euros. This concerns the general payment break which was initiated by banks shortly after the start of the corona crisis early last year. In total, 63,6 billion euros has been made available for 195,000 entrepreneurs through the postponement of repayments and the provision of additional credit to companies. A loan repayment break can still be provided.

Corona Monitor English (pdf)
Corona Monitor English (jpg) 

Click to enlarge (pdf)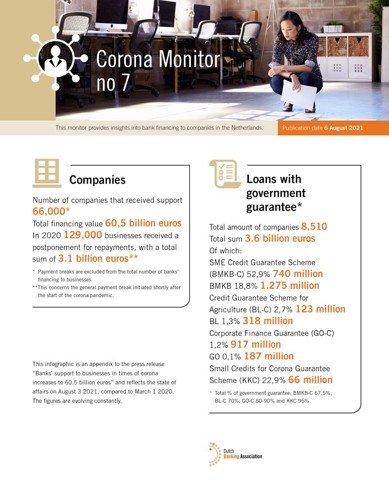 For previous Corona Monitors please visit this page