Banks' support to businesses in the context of COVID-19 increases to 56.7 billion euros
Over the last month, bank credit provided to businesses has increased from 53.5 billion to 56.7 billion euros. Since the Corona crisis, Dutch banks have offered additional credits to more than 63,000 businesses. This is displayed in the sixth Corona Monitor of this year, published by the Dutch Banking Association (NVB).
Nederlands

From the 56.7 billion euros, 3.5 billion euros have been provided with a guarantee by the government, such as the SME Credit Guarantee Scheme (BMKB-C), the Corporate Finance Guarantee (GO-C), the Credit Guarantee Scheme for Agriculture (BL-C) and the Small Credits for Corona guarantee scheme (KKC). More than 8400 companies have received a loan with a government guarantee.    
We seem to be entering into new phase in which  many entrepreneurs are starting to look to the future again. While banks see that the economy appears to be developing positively, there is still much uncertainty. The economic recovery is still fragile. The positive outlook can change quickly if new restrictive measures will be necessary to tackle the COVID-19 crisis. Entrepreneurs seems to be gaining confidence as evidenced by more credit applications. Many can take on new credits, to an important extend because they have remained afloat through the support measures provided by the Dutch government.
Sectors which over an extended period have  been affected by the lockdown measures, are only experiencing the the economic recovery since very recently. From the beginning of July, the Post-Covid Growth Financing Initiative is in place for companies which are struggling with a weakened capital position and want to invest again. 400 million euros is jointly made available for this initiative by the three largest Dutch banks (ABN Amro, ING, and Rabobank) and the ABP pension fund. Medium-sized and large companies that are healthy at the core and which have good prospects for continuity and profitability qualify for this initiative.
Payment break
Last year, 129,000 companies received a postponement of loan repayments from their bank, totalling 3.1 billion euros. This concerns the general payment break which was initiated by banks shortly after the start of the corona crisis early last year. In total, 59.8 billion euros has been made available for 192,000 entrepreneurs through the postponement of repayments and the provision of additional credit to companies. A loan repayment break can still be provided on a case-by-case basis.

Corona Monitor English (pdf)
Corona Monitor English (jpg)

Click to enlarge (pdf)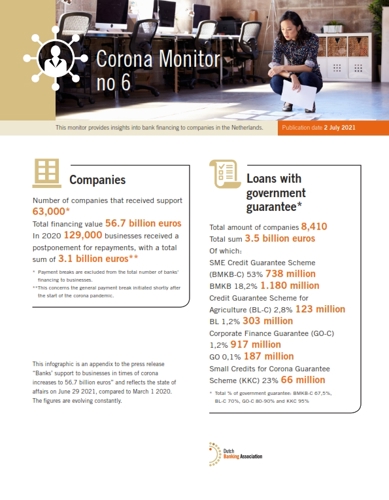 For previous Corona Monitors please visit this page